To make electronics recycling convenient and environmentally sustainable, New York City launched e-cycleNYC in partnership with Electronic Recyclers International, an industry leader in responsible electronics recycling.
Why recycle electronics
Electronics often contain lead, mercury, and other hazardous materials that can leech into the environment if not properly discarded. Responsibly recycling electronics keeps these hazardous materials out of the waste stream.
As of January 2015, it is illegal for New Yorkers to discard electronics in the trash. Participating in e-cycleNYC enables our building to comply with this law by providing a convenient way for our residents to discard their electronics.
How to participate
Please deposit accepted items (described below) in the e-cycleNYC receptacle, located by the elevator in the basement of 37 Nagle Avenue.
What is accepted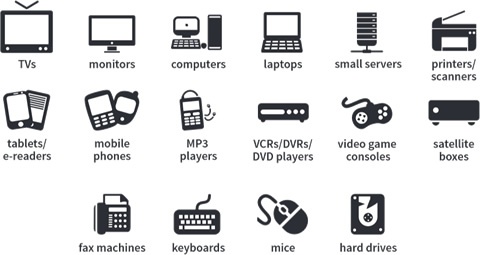 What is NOT accepted

Appliances: If predominantly metal or rigid plastic, recycle these with other metal and plastic recyclables, otherwise discard as trash.
Batteries: Bring rechargeable batteries to any store that sells them, such as a pharmacy, office supply, or hardware store. Rechargeable batteries may contain mercury, cadmium, lead and other heavy metals which can be dangerous if not disposed of properly. Alkaline batteries can be discarded in the trash. Standard alkaline batteries are not considered hazardous waste, since they no longer contain mercury.
Fluorescent Bulbs: Compact fluorescent bulbs can be dropped off for free recycling at any Home Depot, IKEA, Lowes, or other participating retailers. CFLs and other fluorescents can be brought to any of NYC Department of Sanitation's Household Special Waste Drop-Off Sites or upcoming SAFE disposal events.
What happens to stored data
You can remove data from the electronics prior to discarding. Any remaining data will be fully erased as part of the recycling process.
What happens to the electronics collected
All electronics are recycled domestically using the strictest environmental standards available.
« Recycling – Clothes, Linens, Shoes and Accessories