NaBors Apartments has joined the re-fashioNYC program, a convenient way to donate unwanted clothes, linens, shoes and accessories.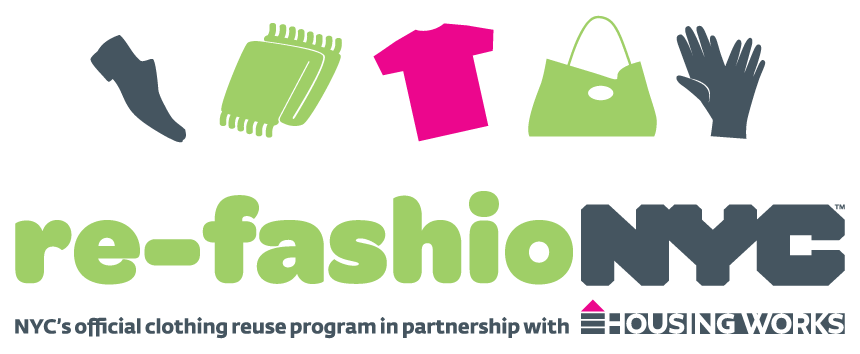 What is re-fashioNYC?
It's a partnership between the City of New York and Housing Works to improve New Yorkers' lives, lessen the City's environmental impact, and save taxpayer money.
Why did we join re-fashioNYC?
Three reasons:
To keep valuable materials from going to landfills: Every year NYC residents throw out approximately 200,000 tons (nearly the weight of 900 Statues of Liberty!) of clothing, shoes, bags, belts and other textiles and apparel. Not only is this wasteful, it is costly. Sending material to landfills is among the City's highest refuse disposal costs.
To help our fellow New Yorkers: In contrast to for-profit used clothing companies that supply similar collection bins, re-fashioNYC is 100% nonprofit. All proceeds from donations support the charitable mission of Housing Works to end the dual crises of homelessness and AIDS.
For the convenience of our NaBors: We wanted to make clothing donation as easy as possible, through a convenient in-building service.
Can I get a tax deduction for the items I donate?
Yes! Self-service tax receipts for donations up to $250 in value are available directly on the bin. Please take only one per donation deposit. Fill out the form and keep it for your tax records. (Tax receipts for donations of higher values must be obtained in-person from Housing Works.)
What happens to donations?
Items donated through re-fashioNYC are sorted at the Housing Works warehouse in Queens. Some donations are sold in Housing Works thrift shops throughout NYC, including the Buy-the-Bag store in Brooklyn. Some leftover items are shipped to Haiti, or sent to other nonprofit thrift shops. The rest are sold to a textile merchant for recycling or exported to overseas markets. No donated material is sent to landfills!
What items are accepted?
Clothing of any kind, in any condition of wear
Footwear (shoes, boots, sandals, slippers)
Clothing accessories (purses, gloves, scarves, hats, belts)
Household textiles (towels, curtains, bedding, linens, rags)
Please deposit only CLEAN textiles (laundered/cleanly stored). Please bag your donations before depositing them.