By Corinne Ramey. Article reprinted from The Manhattan Times.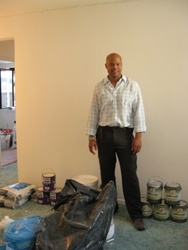 Kermit the Frog famously proclaimed that it wasn't easy being green, but interior designer Marvin Jay Brooks disagrees.
"It's been so easy to renovate from a green perspective," said Brooks.
The interior designer is currently working on an environmentally-friendly renovation of an apartment on Bogardus Place in Inwood. The renovation is spearheaded by one of a growing number of green committees or groups on co-op boards that are dedicated to making their buildings more environmentally friendly. Throughout the renovation of the two-bedroom apartment, Brooks and his team have not only used green components, like paint and tiling, but made sure that all the current materials are disposed of or recycled in an environmentally-friendly way.
"We're trying to be as eco-friendly as possible," said Kristin Tsafos, co-head of the co-op's green committee. The building, which was built in the '50s, became a co-op in the '80s, she said. Today, the co-op, which is composed of three different buildings, is trying to be as environmentally friendly as possible, using everything from energy-efficient windows to compact fluorescent light bulbs. "I just recently moved in November, and one of the things that drew me to the co-op was they that they had a newly formed green committee," said Tsafos, who also works at Scholastic.
From floor to ceiling, Brooks and his team are using the greenest materials that fit within their price range. These include low-VOC, or volatile organic compound, water-based paint, which gives off less chemicals or pollutants than conventional paint. The joint compound that goes on the walls was produced in New York City — so no carbon footprint from driving it across the country — and the paint and joint compound were purchased at Green Depot, a store on the Lower East Side.
The apartment also has ecoTech brand tiles, energy efficient lighting and windows and energy-saving fixtures. In the bathroom, they have installed a low-flow toilet and showerhead.
The biggest challenge is realizing that being environmentally friendly doesn't end with paint and flooring, Brooks said. "We're not only using green products, but working in a green fashion," said Brooks. "You can't just throw everything in a black bag." For example, a scrap metal collector in the Bronx picked up the stove, and the carpet will be taken to a recycling center in New Jersey. He said the least green part of the renovation was probably the linoleum floor, which they hadn't found a way to recycle and was too water-damaged to use again.
Although Brooks has been working as an interior designer for five years, this was his first renovation so focused on environmental impact. He said much of his environmental education came from Green Depot, which provided literature on recommended products.
The renovation is more expensive than a conventional one, said Tsafos. Brooks estimated the total cost would be between $20,000 and $30,000. "On a regular renovation, I highly doubt an owner would spend $35 to $50 for a gallon of paint," he said. Normal, low-end paint costs between $12 and $15 a gallon. However, on some components the co-op was limited by price. "Not everything is available in a price range we could afford," said Tsafos. "For the cabinets, we ended up going with IKEA."
Although the apartment doesn't yet have a buyer, the co-op hopes to put it on the market in August. Tsafos estimated the approximately 975-square-foot apartment would sell in the mid-$300,000 range. "This will be one of the first green renovations in the neighborhood," said Matthew Bizzarro, a real estate agent for Stein-Perry Real Estate who will be selling the apartment. Bizzarro said that clients would likely be willing to pay slightly more for the green renovation. "I'm finding the trend is that more clients are looking to be more environmentally and socially responsible," he said. "I think the demand is high, but there aren't a lot of options that allow a customer to make a decision."
Brooks, who lives in Washington Heights, said that although one green apartment won't have a huge environmental impact, the project demonstrates that others can do similar renovations at affordable prices. "I think it's a step in the right direction of how to get people on board," he said. And so far, working on the green renovation has been rewarding. "I can change people's lives just by changing their surroundings," he said.
The Manhattan Times is the bilingual newspaper of Washington Heights and Inwood.